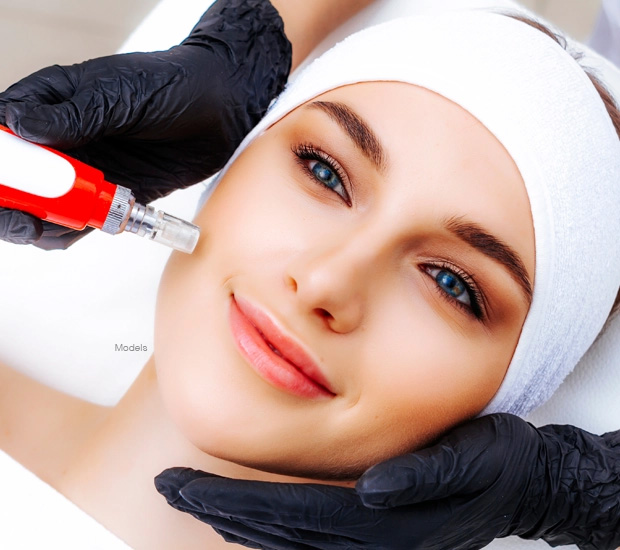 Radiofrequency Microneedling
Williamsville, NY
Skin imperfections on the face and neck can cause women and men to feel self-conscious. These issues are often the effects of sun damage or age, but they can also result from lifestyle choices and life events.
While there are numerous cosmetic options available for treating these facial concerns, radiofrequency (RF) treatments are often the best choice for many patients. This is because RF treatments can correct skin issues at their source and offer long-lasting results to improve your confidence and comfort.
At Artesia Plastic Surgery, Dr. Schultz is proud to offer the revolutionary AGNES RF system, which combines radiofrequency technology with microneedling to help improve (and even eliminate) many of these skin concerns that cause you so much frustration.
Am I a Candidate for RF Microneedling?
If you have skin concerns on your face and/or neck that you would like to correct, RF microneedling with the AGNES system may be your answer.
AGNES RF microneedling can be used to address issues in the following areas:
Cheeks
Neck (including "turkey wattle")
Jawline (jowls)
Chin (including double chin)
Nasolabial folds
Around the eyes
Nose
Brows
Ideal candidates should be in good overall health, not smoke, and have realistic expectations for their results. Dr. Schultz will help determine if AGNES RF microneedling is the best option for you during your consultation.
What Are the Benefits of RF Microneedling?
RF microneedling with the AGNES system is a non-surgical treatment that helps women and men who deal with any of the following skin imperfections:
Wrinkles
Fine lines
Skin laxity
Acne
Scars (including acne scars)
Volume loss
One of the many benefits of AGNES RF microneedling is that a treatment plan will be created to specifically address your concerns.
What Is Involved in RF Microneedling?
For many people, the concept of microneedling can seem off-putting; however, this treatment has developed into one of the most effective ways of treating tone and texture irregularities.
The AGNES system is equipped with nine needles, each penetrating to various depths. These needles are used to create a series of micro-injuries in the treatment area.
At the same time, radiofrequency energy will be directed through the created channels to reach the deeper layers of the dermis. The combination of the micro-injuries and radiofrequency energy promotes collagen and elastin production, which aids in healing the micro-injuries and strengthens the tissues.
The AGNES system has been specifically designed to maximize energy output while protecting the outer layers of the skin.
This treatment generally takes 30 minutes to complete.
What Is Recovery From RF Microneedling Like?
Along with the many physical and psychological benefits of AGNES RF microneedling, one of the best aspects of this treatment is that there is little to no downtime. This means that you can return to your normal, daily activities following your treatment session.
Some bruising, swelling, slight discomfort, itchiness, and redness on the skin can be expected; however, these side effects will dissipate within a few days.
What Results Can I Expect After RF Microneedling?
While you will likely see some improvement immediately after your treatment, it often takes up to six months for final results to settle in. This is because it takes time for collagen to be produced.
Once your results finalize, you can look forward to noticeably smoother, tighter, firmer, and clearer skin that can have you smiling from ear to ear.
RF Microneedling FAQ
Q: Is RF microneedling painful?
A: Most patients report minimal (if any) discomfort during their treatment. Topical anesthesia or local anesthesia can be used to ensure that you do not feel any pain. You may experience some soreness in the treated areas following your procedure, but this is temporary. Over-the-counter medications can be taken to relieve any pain you may experience.
Q: What skin types can have this treatment?
A: AGNES RF microneedling is safe to treat concerns on any skin type and tone.
Q: How many treatment sessions will I need?
A: While you will see noticeable improvements to your skin quality after one treatment session, we recommend that patients have three to four sessions to achieve optimal results.
Q: How much does RF microneedling cost?
A: Your AGNES RF microneedling cost is dependent on several factors, including the number of areas being treated and the extent of correction needed. At your consultation, you will be provided with a cost estimate for your specific treatment.
Q: How long do RF microneedling results last?
A: Your AGNES RF microneedling results can last anywhere from one to two years; however, each patient is different, meaning that your results may last shorter or longer than this period.
Your Williamsville, NY, RF Microneedling Experts
Dr. Schultz and the team at Artesia Plastic Surgery are dedicated to helping women and men achieve their aesthetic goals in Williamsville, New York. At Artesia Plastic Surgery, we offer RF microneedling and a range of other surgical and non-surgical cosmetic procedures.
Learn more about fat transfer in Williamsville by calling (716) 650-4622 today!