Is an Arm Lift Right for You?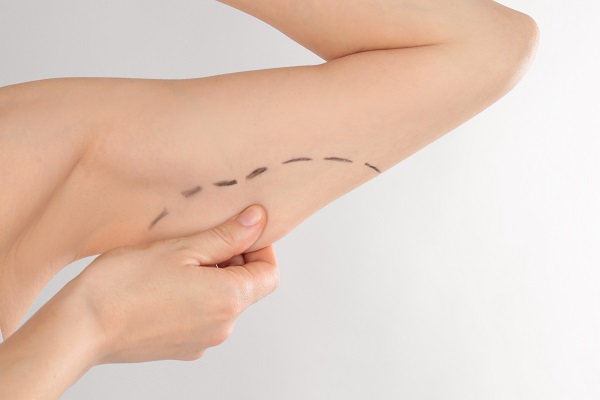 An arm lift, also known as a brachioplasty, is a surgery that provides a more youthful and toned appearance to those who are experiencing sagging arms due to aging, genetics or weight loss. The procedure reshapes the upper arm, resulting in a more contoured appearance. Patients looking for an improved appearance in a noticeable area of the body that everybody sees can benefit from this procedure.
What can I expect from a brachioplasty?
Prior to the procedure, the doctor will walk the patient through exactly what to expect. Before beginning the surgery, medication will be provided so that no pain will be experienced.
Depending on the area of the arm that needs to be improved, incisions varying in length and size will be made. Most incisions are made on the underarm or back of the arm where scarring will not be noticed. Partial arm lifts only require a small incision in the armpit through which excess fat will gradually be removed. Full lifts, the most invasive, will require an incision from the elbow to the armpit. The majority of lift surgeries require only small incisions that will heal quickly.
The procedure
During the procedure, the skin may be removed, and liposuction may be performed to remove excess fat. Once excess sagginess is removed, the remaining skin will be reshaped and tightened, creating a smooth and dimple-free appearance. Results of a brachioplasty are noticeable immediately, but healing will take at least two weeks before scarring begins to fade and longer before exercise can be resumed. Some patients experience swelling, bruising and achy-ness following the surgery. In most cases, this is an outpatient procedure.
Who is a candidate?
Candidates for a brachioplasty can be anyone who has kept a stable weight for an extended period and has sagging, wrinkly and excess arm skin. A patient is likely a candidate if he or she does not smoke and has overall good health without any medical conditions like high blood pressure, high cholesterol, diabetes and other illnesses that may slow healing.
Those who have tried to tone their arms and lift them naturally without success may also decide this procedure is right for them.
Significantly overweight individuals may not benefit as much from an arm lift as others, especially if they are planning to lose weight. In this case, it may be wise to either lose weight naturally or to schedule liposuction first.
What are the positives to this procedure?
#1 More confidence
Patients who undergo a brachioplasty experience more confidence, a boosted self-image, and a more appealing appearance.
#2 Looking better in clothing
Form-fitting clothes can be worn without worry. Sleeveless garments can be worn freely instead of suffering in the heat of summer.
#3 Obvious weight loss
If a person loses a good deal of weight, it can be disheartening to see the remaining excess skin. This procedure will make weight loss more noticeable to others and help the patient maintain weight loss.
Find out if this is the right procedure for you
If you are frustrated with the saggy skin on your arms, and you feel as though it takes away from your appearance, a brachioplasty can significantly benefit you. To learn more about receiving an arm lift, schedule an appointment with our office today.
Request an appointment in our Williamsville office here: https://www.artesiaplasticsurgery.com.
Check out what others are saying about our services on Yelp: Read our Yelp reviews.